Topics covered
Fundamentals of FX with QTC
Potential savings using FX in procurement
How you can cover contingent exposures and hedge with greater flexibility
Protect against future payments in restricted currencies
Receive insights into risk management practices
Who does it benefit?
The webinar is designed to assist all roles within the Government procurement arena as well as benefiting those working in finance (eg, accounts payable or receivable). No knowledge of the topics is assumed; participants with prior experience may find the webinar useful to refresh and extend their knowledge.
The QTC Education Program is only available to Queensland Public Sector Employees (this includes employees of the Queensland Government, Queensland government departments, local governments, statutory corporations, and other entities to the extent they have an association or are related to the State of Queensland) and QTC employees. By registering for a workshop or webinar, you acknowledge that you are a Queensland Public Sector Employee. QTC/UQ reserves the right to unenroll any person that is not a Queensland Public Sector Employee or QTC employee from any workshop or webinar in the Education Program. If you are unenrolled from a workshop or webinar you will be entitled to receive a full refund of any workshop fees paid.
Outcomes
After this webinar, participants will have a greater entry level understanding of what exchange rates are and how to interpret buy and sell prices of currency. You will also know the best practices in procurement to identify savings for goods sources from overseas.
Webinar facilitator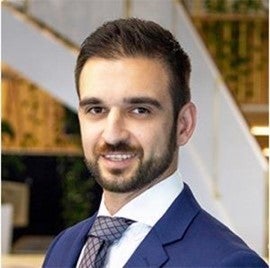 Dino Mehinagic
Queensland Treasury Corporation
Dino Mehinagic joined QTC in 2018 and has over 10 years' experience in the banking and finance sector across Australia and the UK. He specialises in risk management for State entities, commodities, and FX markets with a strong interest in global and domestic markets.
Dino holds a Bachelor of Commerce and Economics from The University of Queensland, focusing on Finance and International Trade and has completed post-graduate education in Derivatives, Foreign Exchange, and Advisory services.
Reach out to Dino and discuss how much your organisation could save with QTC's wholesale FX rates.
Location
Date
Cost
Duration
Registration
closes
Online
On demand
Complimentary
60 minutes
N/A
QTC Foreign Exchange
"It was very interactive, the presenter gave the students a lot of opportunities to ask questions. I have better knowledge of dealing with spot and derivative transactions."
Our facilitators
"Our facilitators are experts in finance, economics, and commerce and have a broad range of expertise and experience across both industry and academia."